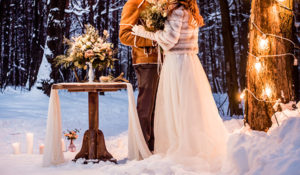 Planning a winter wedding for next year? Don't settle for pinecones and snowflakes for your decor; get creative! Here are some new ways to incorporate winter into your winter reception motif, without being too cliché.
Centerpieces and table decorations can have a huge impact on the vibe at your reception. Instead of going with pinecones and lanterns for a typical winter centerpiece, try something more dramatic. Use tall and decorative vases for your reception tables and add tall winter branches and hanging crystals to your floral arrangements. The combination of these two design elements will add romance and elegance to your dinning area. For added romance and a touch of warmth, add small votive candles around the centerpieces and use frosted glass or silver china for dinner service!
For cocktail hour, hot chocolate and apple cider are typical inclusions you may want to consider, but why not do something a little different as well? Offer up white or peppermint hot chocolate and eggnog in small espresso cups or punch glasses as they arrive to the reception/cocktail hour. At the bar, offer chocolate martinis or mixed drinks with peppermint liqueur in them to expand the winter feel even farther! Both cocktail options should be served with a peppermint or sugar rim, in a decorative martini or cocktail glass for that added touch.
When planning a winter wedding, be sure and incorporate some new, fresh ideas to really make it stand out and feel more elegant. When searching for the centerpieces, vases, and glassware for your unique reception, be sure and check out Action Rentals! Action carries a variety of vases, centerpieces, and cocktail hour glasses, so you're sure to set your big day apart from the rest!