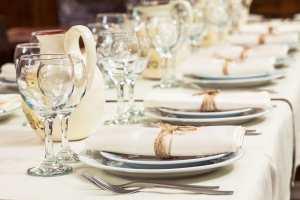 Event planning is exciting. You're pulling all the pieces together to celebrate with loved ones. But let's face it. Event planning is also hard work. At Action Rentals, we're here to help. Our experienced event personnel have years of success in helping event planners and hosts choose just the right items for their events.
One of the key decisions for any event is the choice of linens. Like much of the event planning process, linen selection is very subjective, and it's focused on aesthetic appeal. At Action Rental, we carry a broad selection of colors and styles. Whether you want a solid or a pattern, traditional white or a color to complement your other decorations, we can help.
If your event has a color scheme you would like to match or complement, please bring some examples of pieces featuring your chosen color for your linen selection appointment. If you are earlier in the selection process, or if there isn't a set theme, please bring along items with colors, textures, patterns, etc. that appeal to you. These could be magazine pages, postcards, photographs… anything that really speaks to your sense of color.
With a little insight into your preferences, our team can show you options that coordinate or complement your selections. The important part is that the decision is always yours. We can provide as much or as little input as desired.
So as you prepare for your next event, please keep in mind that the professionals at Action Rental are ready to make your event unforgettable! Stop by our showroom at 1861 Eastman Road, visit our website or call us at 423-246-5181.