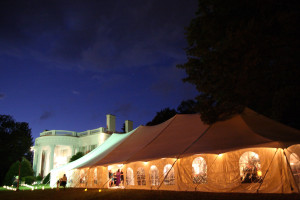 When planning any event, creating the right atmosphere is critical! There are several factors to consider to ensure you have set the desired mood.
Location, Location, Location – Your location will determine much of your atmosphere, make sure it is either somewhere you love or somewhere you can work with to get the mood you want!
Lighting – Good lighting is critical to event success! Whatever mood you want to set, lighting will help get you there.
Colors – What colors are your theme? How are you carrying that theme through the event? Linens? Flowers? China? Chairs? For a wedding – outfits? Color is so important when determining the atmosphere you want.
Music – How many of us can be whisked away by one song? Exactly! Music has not only sound connotations but emotional ones as well. Consider the overall atmosphere you want when choosing your music.
Decorations – What mood are you going for? Use appropriate colors and centerpieces to create the atmosphere you want.
For help planning your next party, stop by and see the experts at Action Rental and Sales! We look forward to showcasing the wide variety of party rental items we have. From chairs to china to lighting to tents to linens and more we have everything you need to have the best event in town! Stop by our showroom at 1861 Eastman Road, visit our website or call us at 423-246-5181.