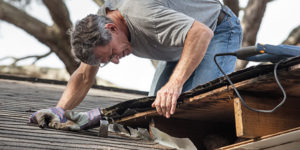 Before the harsh winter months arrive, you need to fix or replace that leaky roof! No one wants their roof to leak during holiday dinners or celebrations, so now is the perfect time to do those repairs!
Winter months provide lots of snow, ice, and rain, which can really take a toll on your roof. A bad roof can also cause higher electricity costs and water damage to your home's insulation or interior. In order to prevent all the negative side effects of a bad roof, fall is the perfect time to get your roof inspected and repaired. Fall temperatures make roof repairs less unbearable and will ensure that your roof is in its best shape for winter!
Roof repairs can be costly, so why not do it yourself? Doing it yourself could save you thousands of dollars. In order to repair or replace your roof, you'll need the right tools for the job. The professionals at Action Rentals can help you get those tools. Renting equipment and tools from Action is a great alternative to buying expensive equipment that you may only use once.
Action Rentals and Sales carries staple and nail guns, ladders, and almost any tool you may need!