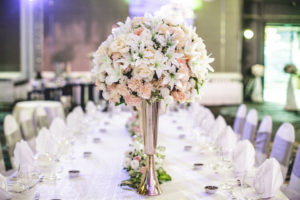 Everyone wants their guests to have a unique experience at their wedding, but summer weddings all seem to feel the same. They all have similar color palettes, venues, and similar décor. There are a few ways, however, to make sure your summer wedding stands out from the rest.
One way to insure your wedding stands out from the rest is to use a more "wintery" color palette. Pale pinks, light blues, silvers, and rich reds are all traditionally winter wedding colors, but using them in the summer can make your event more memorable.
Another great idea to make your summer wedding unique is to have it at a stylish indoor venue. Not only will an indoor venue set you apart from all the other summer weddings, which will probably be outside, but it may also insure your guests are more comfortable during the ceremony. Most guests don't consider a hot, muggy wedding a good time, so an indoor venue will probably be nice change of pace for them. A stylish museum wedding, or sophisticated library ceremony could be the perfect way to make you and your guests happy!
Finally, and probably most importantly, have a creative food or drink lined up! If you are going to have your wedding outside, an ice cream bar at the reception is the perfect example of a creative wedding dessert! An ice cream bar will be different and more exciting than any wedding your guests will attend this season. A signature summery cocktail will also add a nice flair to a reception or cocktail hour. A refreshing mojito with fruit, or a lavender lemonade cocktail will provide originality and refreshment at your big event!
When picking out the colors, linens, serveware and dishware you'll need to make your day unique, remember to check out Action Rentals! We have the best selection of wedding essentials in a wide range of colors, styles, and designs to fit your needs!