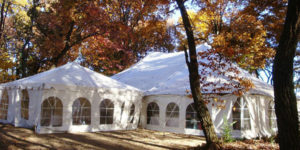 Tents are often seen as a last minute necessity to protect weddings from the elements, but they can be so much more! In addition to providing needed protection from the heat and the rain, tents can also provide a more elegant feeling during your big day. Tents can be decorated with lights and fabric to create a soft feeling during a reception, or with flowers and foliage to create an earthier, natural feel during a ceremony or rehearsal dinner. Encompassing candelabras or chandeliers into your tent design can also give your special day an additional feeling of romance, making it more inviting and relaxing for you and your guests.
When deciding what tents to rent for a wedding or reception, there are a lot of factors to consider. When looking at tent options, take into consideration how you will want to decorate, the height you'll need, how many people you'll be entertaining, and the quantity you'll need. All of these factors will affect what kind of tents you will need and what size and shape you will want.
For all your tent needs, turn to Action Rentals, home of The Tent King! Action Rentals provides the best quality and selection of tents for your big event!