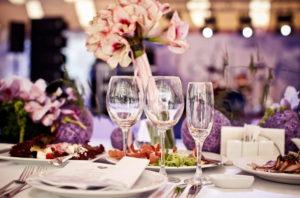 Did you know that the average wedding costs over $26,000 today? Many couples are trying to reduce their wedding costs, however, and one of the best ways to do that is by reducing catering costs. Food and beverage costs are usually a majority of the cost of a wedding, so it's a good place to start looking for savings!
In order to cut costs, start by looking at cocktail hour and appetizer costs. First of all, skip the cheese platter, it's an over done appetizer and no one will miss seeing it. Another option is to skip the raw bar and to have pricier appetizers, like shrimp and other seafood, hand-passed by the waiters or caterers, this option will greatly reduce the amount of seafood guests consume, while still offering the items for guests to enjoy. If you are going to do the hand-passed option for some appetizers and small plates, be sure to present them on unique, decorative plates or serve ware. When deciding on presentation and dishware, renting is a much more cost efficient option than buying, plus then you don't have to worry about what to do with all those extra plates and dishes! When looking for interesting or unique dishes, be sure to check out Action Rental's large selection of dishware available for rent!
The majority of wedding food costs accumulate during the dinner and sit-down meal portion of the reception. In order to save on the entrée portion of the meal, offer interesting pastas, such as flavorful filled pastas, or beef or pork that is in-season. Ask your caterer for a list of prices on meats and choose an option that is both cost-efficient and delicious! Another savings option is to have your dinner served family-style, choosing food that can be passed around a table will save you money because less food will be wasted this way!
No matter which way you decide to go with your reception dinner, Action Rentals has serve-ware and china that can be rented to insure your food looks good enough to eat!