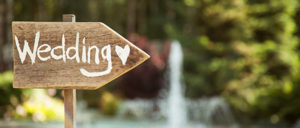 Wedding planning is stressful, but one of the most stressful and time-consuming parts can be picking a venue. But what factors should you consider when picking out your perfect location?
Capacity- If your perfect venue only seats 100 guests, but your guest list is topping out at 200, then something has to give. Be sure and find a venue that can comfortably accommodate all your guests, with enough room for everyone to dine, dance, and relax.
Type- Hotel? Outdoor venue? Historical location? You need to consider all the factors before you decide on the type of venue you want. If you are having a winter wedding, for example, consider having it indoors or in a well heated building, barn, or tent. No one wants to freeze the entire night!
Cost- Everyone has a budget, and you need to keep that budget in mind from the very beginning. Don't break the bank on the venue alone!
Rules/Restrictions- Some venues have a definite time you have to leave by or have restrictions on beverages you can serve. So if you're looking to stay late or have a full bar, be sure and take a second glance at a location's guidelines.
Catering- Be sure and discuss with them the catering options you have. Some venues only allow in-house catering or catering from a list of preferred catering partners, but if your looking to have particular caterer, be sure the venue allows it.
Parking/Transportation- If you plan on having a large wedding, be sure the venue's parking lot can handle the number of guests you have invited. Does the venue have access to public transportation? For some, this is a deciding factor in picking out a venue.
Facility Extras/Amenities- When working on picking out a location for your reception, places that supply extras such as tables and chairs, kitchen access, A/V equipment, or linens can provide an added bonus!
When planning your wedding, be sure and consider all of these factors when picking out a venue. After the venue has been decided, be sure and stop by Action Rentals to see all the decorations, linens, and extras that will make your day uniquely you!