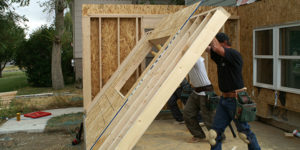 There are many different ways to expand your home. Additions can come in all shapes, sizes, and designs, and offer unique opportunities to the homeowners. Additions, for instance, may allow you to change the look of your home, or to create a new statement for your home, without having to redo the entire exterior space.
While the most common addition to a house attaches to the rear, there are more creative ways to complete a needed addition. If you do want to add to the back of the house, however, you can always use a material that matches the roof or shutter colors instead of your main exterior material. By using materials different than that of the brick or other products that may match the current exterior material more exactly, you will bring more interest to your home's exterior.
Another good idea to consider for home expansion is to add your addition upward instead of outward! If your current housing structure will allow it, look into having your addition placed on another level, instead of simply expanding the first floor of your home. Not only will this option create a larger-looking home, but it may also be more cost effective by saving you money on the expansion of your home's foundation.
Finally, when adding any addition to your home, there are a few things to keep in mind to ensure the project adds to the value of your home. When expanding your home be sure to not create an addition that overpowers the rest of your home or looks out of place, you don'twant your home to be overwhelmed by an addition! Any addition you put on your home should connect well with the landscape around it, for example, don't add an addition and forget to bring the flowers/ shrubs that already fill your property out to match the new addition. Before beginning work on your home, especially if completing the job yourself, ask an architect or contractor their opinion on your expansion plans, their advice can be invaluable forbig projects such as these!
After you have decided what kind of addition you will do on your home, be sure to come see the experts at Action Rentals and rent all the contractor and building equipment you'll need for the job!