It's almost summertime, which means more evenings will be spent taking in those mild summer nights. Enjoy those evenings on a brand-new deck…and what's more, build that brand-new deck yourself with the help of equipment rentals from Action Rentals!
Give your backyard a makeover. Create an "outdoor room" that is a great place for entertaining friends or letting your toddlers play.
Not only do you need to select the structural materials, and the decking type, there are post options and caps that can add elegance and personalize your deck.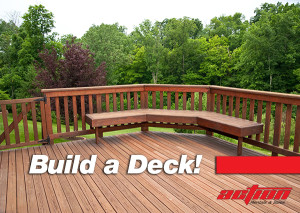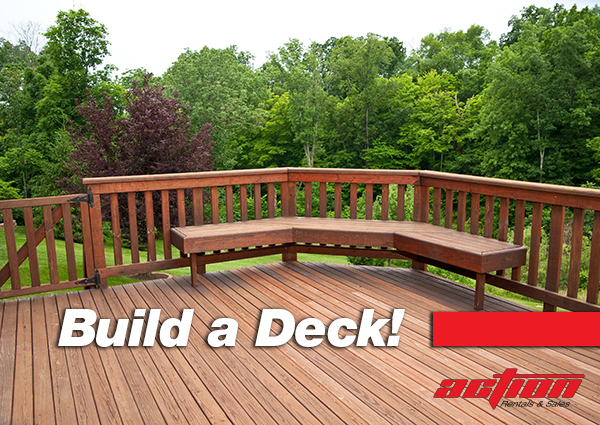 Follow these tips to ensure the smoothest building process:
Foundations needs to be deeper the higher the deck is off the ground.
For ground-level decking, go below the frost line.
Post holes should be at least 24 inches deep. (Don't forget the post-hole digger).
Deck shape can be easily adjusted to any requirement with minimal woodworking skills.
Decking boards can be straight, run diagonally, or you can create more complex chevron or square designs.
Trim edges with a power saw or jig saw to create curves. You may need to use double joists to enable you to fix more complex designs.
Newel posts need to be at least 36 inches high and support the balustrade at least every 6 feet. Railings are mandatory if the deck is over 20 inches off the ground.
The frame for raised decking is constructed from pressure-treated lumber.
On a concrete base, posts can be adhered to the ground using bolt-down post brackets.
Safety first! A raised deck requires a handrail.
For help with this and any other DIY project, come see the experts at Action Rental & Sales in Kingsport, Tennessee. We have the tools and expertise to help you finish your "To-Do" List. Stop by our showroom at 1861 Eastman Road, visit our website or call us at 423-246-5181 for a complete listing of products and pricing.