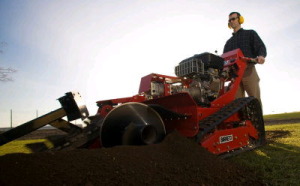 First, turn the fuel switch on and give it a little bit of choke. Next, turn on the key switch and lower the throttle a bit. Once that is done, shift the transmission into neutral and ensure that the hydraulic pump is off. When trenching, the wheels will need to be locked in place. To move the unit, disengage the wheels. Once the unit is running, give it some gas, activate the hydraulic pump and pop the transmission into forward.
Once you are located where you want to start digging, make sure to engage the wheels so they work together. Turn the throttle up, start the chain and auger spinning and then lower the bar into the earth. Next, lower it to the depth you want. Remember, getting it to the depth you want can take a few moments, so be patient. Once you are at the depth you want, the auger will be pushing dirt off to the side. You can control the speed by using the transmission controls.
Now you are ready to move! Once your bar is all the way down, shift your machine into reverse and start moving backward. Make sure that you are NOT in front of your machine while it is operating as it throws dirt and rocks in a forward direction.
As always, make sure you call 811 before you dig!
For trenchers and all your other light construction needs, come see the experts at Action Rental & Sales in Kingsport, Tennessee. Stop by our showroom at 1861 Eastman Road, visit our website or call us at 423-246-5181.