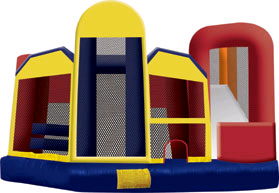 Want your next party to be extra special? Consider renting an inflatable! Inflatables are a great way to add fun and excitement to your party! Here are some questions we frequently get from renters!
Is there a difference between a bounce house, inflatable, moonwalk, bouncer, and fun jump? No, all of these terms describe the same thing.
How much space is needed for the inflatables? As a rule of thumb, we like for there to be at least 2 feet around the entire unit for safety reasons.
Is power needed? If so, how much is needed? Power is required as each unit requires a 110V (standard) outlet.   We prefer a dedicated outlet if possible. Also, each outlet needs to be within 100' of each unit. Generators may be rented if either of these conditions cannot be met.
What types of surface can you set an inflatable upon? Inflatables can be set up on grass, gravel, dirt, cement or asphalt. However, we need to know what surface type is available when you reserve the unit. Large slides and certain other equipment need to be set up on grass.
Can inflatables be set up indoors? Absolutely, provided that the area is large enough (and tall enough) to accommodate each inflatable.
Do adults need to supervise the inflatables? YES! Each inflatable needs to be supervised by an adult to ensure each child's safety.
Are the inflatables clean? Yes. All of our inflatables are cleaned prior to and after each event.
Do the inflatables get hot during the summer? Although our bounce houses are equipped with roofs, it can become quite warm inside the units during the warmer summer months.
How much time do we get the equipment with each rental? Every inflatable rental is for the day. If you want to have them for a longer time frame, that can be arranged for an additional fee.
How much time prior to the event are the inflatables set up? Generally, 30 minutes to a few hours prior to the party start time.
Are inflatables safe? Yes, inflatables are safe as long as they are professionally set up, monitored by adults and when common sense is used in relation to weather conditions.
For more information or to see the wide variety of inflatables and other party rentals we have available, visit our showroom at 1861 North Eastman road or visit us online.